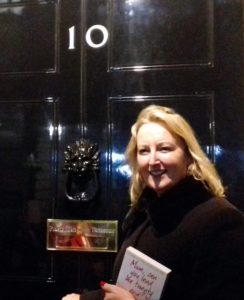 Solicitor Belinda Knight studied law at Aberystwyth Law School and was the recipient of the Calcott Pryce Prize before qualifying at a lawyer in 1995. She then worked as a solicitor for a variety of national and regional law firms in based in Manchester, Bradford, Guildford and Reading during which time she gained considerable experience as a solicitor in different areas of law.
In 2007 Belinda set up her own practice as a criminal defence solicitor in Reading to fulfil her passion to provide expert legal representation and advice, both privately and via legal aid, to clients in the Thames Valley area, and beyond.
During and since Belinda launched her practice, she has appeared in over 100 Magistrates Courts nationally, as well as police stations up and down the country including Crown Courts. She provides representation at police stations, Magistrates Courts, Crown Court and Higher Courts. She has developed an expansive knowledge base in the Criminal Law field.
As shown on the home page, Belinda Knight has experience as a Defence Advocate for over 20 years and is a member of the Criminal Law Solicitors' Association; the London Criminal Courts Solicitors Association; the Association of Women Solicitors; Berkshire, Buckinghamshire and Oxfordshire Law Society; the Solicitors' Association of Higher Courts Advocates Criminal Courts; the Law Society of England and Wales; the Sole Practitioners Group; the Law Society of Northern Ireland.
The practice represents clients for such offences as Assault Occasioning Actual Bodily Harm, Child Abduction, Child Neglect, Computer and Internet Crime, Confiscation Proceedings, Drink Driving, Road Traffic Offences, Drugs Offences, Fraud (theft), Grievous Bodily Harm, Harassment, Human Trafficking, Indecent Images (Child pornography and Extreme pornography), Kidnapping, Murder, Offences Against the Police, Public Order Offences, Rape, Regulatory offences (such as Health and Safety issues), Sexual Offences, Stalking, Taxi Licence Revocation Appeals, Theft, Terrorism, Wounding with intent amongst others (see table below).
Belinda continues to build on her relevant knowledge in criminal law beyond her current jurisdiction. This has involved visiting Legal Institutions in Europe, and Worldwide, having attended meetings of the Academy of European Law in Strasbourg, Lisbon and Dublin. She has also been selected to be part of an International team of Lawyers to speak to prisoners in foreign countries such as Uganda, Kenya, South Africa, and New Zealand on a voluntary basis, on their human rights. In Kenya she was involved in speaking in a prison in Nairobi, regarding the human rights of prisoners under Kenyan Law, and on The Bill Of Rights for Kenyan prisoners.
Belinda has had many great testimonials about her work, and you can read about some of these on the testimonials page. In these testimonials she is described as "professional, sympathetic, a shining star, a legend, capable, excellent negotiating skills, 100% recommended, amazing solicitor, best solicitor" and more.
Based on a 50 point inspection, Belinda Knight solicitors was rated one of the top three criminal defence solicitors in Reading.
Belinda has also been involved in voluntary work in the community, and was involved in the early stages of the Charity DrugFam, of which up until recently Belinda was a Trustee. This charity is involved in "Providing a lifeline of safe and caring support to families, friends and partners affected by someone else's drug or alcohol use."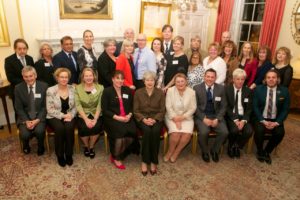 As part of her role as a trustee of DrugFam Belinda had the privilege of attending a service at Westminster Abbey in 2017 and also attending a meeting at 10,  Downing Street (photo at top of page), which involved meeting the Prime Minister, Theresa May (photo above). The event at Downing Street was held to recognise the charity's achievements, which included receiving the Queens Award for Voluntary Service, holding a Service of Celebration and Hope at Westminster Abbey, and the founder, Elizabeth Burton-Phillips, being awarded an MBE for 'services to people who experience addiction and their families.'